Build your market expansion strategy with location intelligence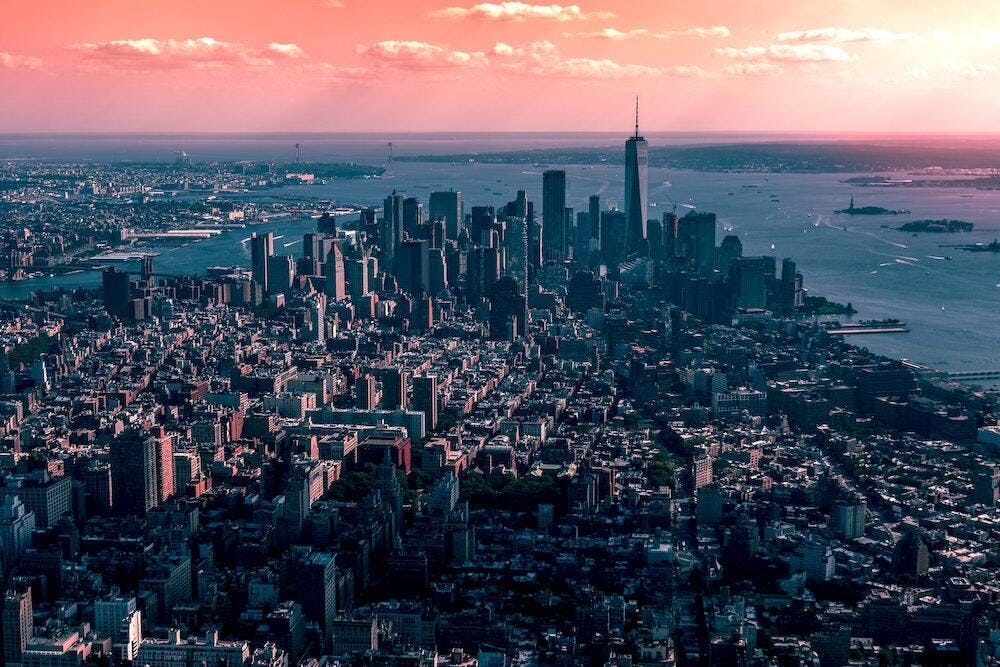 Market expansion is a growth strategy that usually happens when existing markets have no more potential for a successful product. In order to ensure success when entering new markets, a discovery phase is needed. You must compare your resources to the potential market's needs and build a respective strategy and location intelligence can help.
It is important to justify a market expansion strategy by answering the following questions: Why do you want to expand? Why will you succeed? Essentially, this corresponds to defining what your assets are, and how you will overcome identified difficulties.
Location intelligence and market penetration strategies:
Several different market penetration strategies are possible. Location intelligence can help you to determine which strategy is best for your business. Location data provides access to qualitative and quantitative insights regarding the context of a determined area. Let's take a look at some examples of strategies which can be aided by location intelligence:
1 - Penetrate a new territory
As a retailer, you can look for new territories to sell your brand once a market is saturated. This is a common strategy for retailers, but first you need to make sure that your target market is here and reachable.
You can use geolocation data to gain insight on the concentration of your target customers in a specific area (thanks to footfall data and typical socio demographic profile). You can also check the potential cannibalisation of this area with your competitor's location.
Here is a dynamic heatmap of the footfall evolution by hour for a neighborhood in London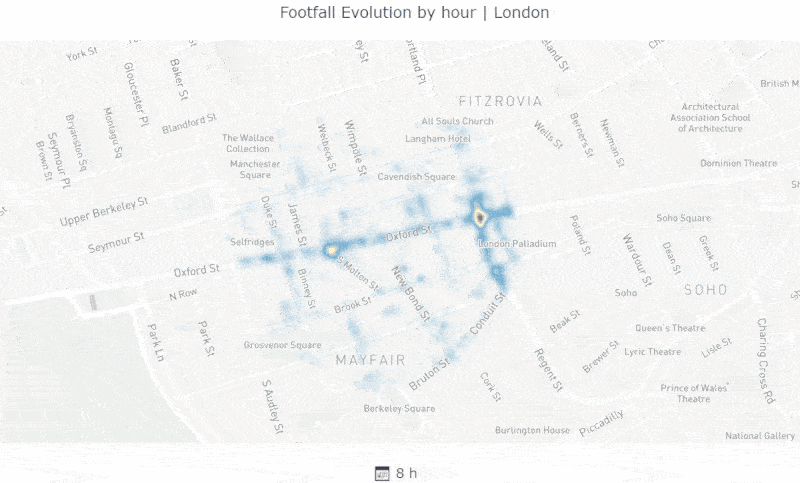 With this dynamic heatmap, you can evaluate population density surrounding a specific address on a daily basis.
Click here to discover the importance of footfall data when managing a retail business.
2 - Develop a franchise strategy or create a chain
If your business is gaining customers and popularity in your original market, it might be the right time to open a new store in a nearby location. You can manage your own store or leave a franchisee in charge. This strategy is only viable if you are positive that the new shop will not suffer from cannibalisation from the existing one.
Mobile location data provides you with your exact catchment area, in addition to the cannibalisation rate between two addresses or commercial areas. This way, you ensure that both stores will have equal market shares, and high penetration rates in their respective catchment areas.
Here is an illustration of the shared visitors between 3 London stores in December 2020.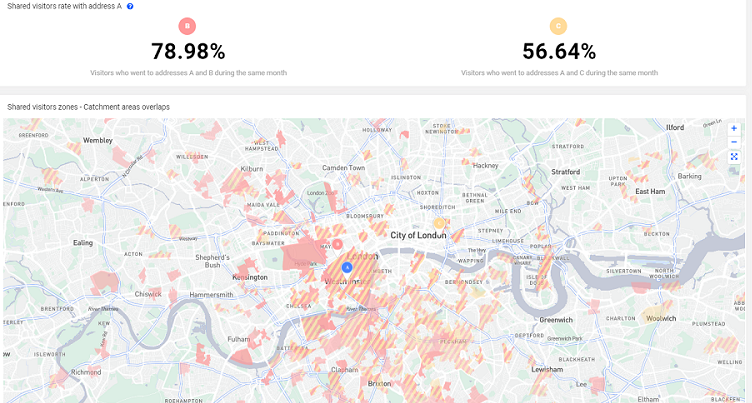 Find out the level of cannibalisation between two addresses with a free demo.
3 - Launch new product
Another way to penetrate a market is through releasing a new product. This will increase brand awareness by generating interest and creating hype about the new product among your target market. Once potential customers are hyped by your new product, you can establish your brand presence on this new market.
Before launching a new product, you must make sure that it will meet customer's expectations. You can use location intelligence to watch consumers spending level and habits in targeted areas. By analysing this, you will be able to determine whether it is worth launching your product on this new market or not.
Here you see a comparison of sociodemographic profiles for two different neighbourhoods in January 2021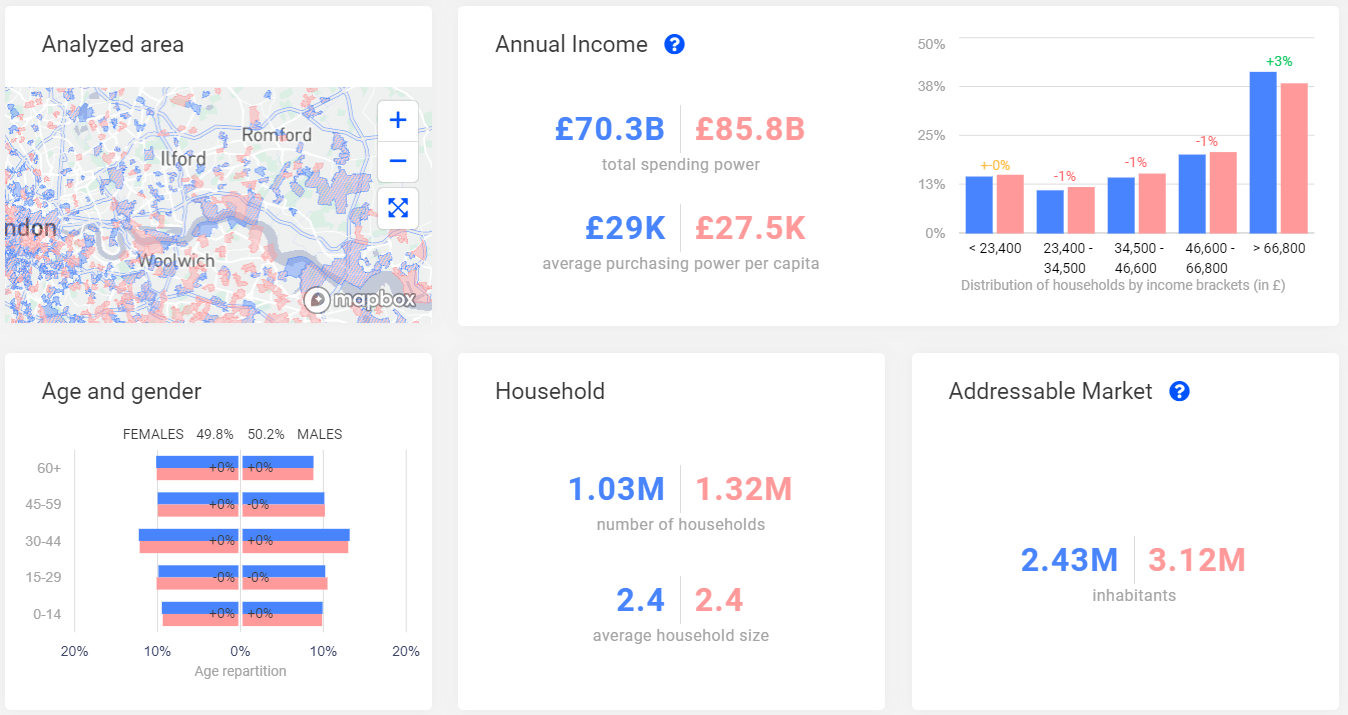 Who are your customers? What is their average income? Click on the button below to learn more about people visiting the adress of your choice.
Get your demo
4 - Define a new pricing strategy
To inundate a new market with your product, you could choose to lower its price. This way your product is much more attractive to new customers. This approach requires a responsive market, attracted by lower prices.
Thanks to location intelligence, you can study the spending habits and average income of people in a potential area. This way, you are sure to set a pricing strategy adapted to the actual consumers.
5 - Strategic alliances, new segments and others
These were the four most used market penetration strategies, however of course others exist. For example: create strategic alliances (co-branding or mergers), target new segments, increase marketing efforts, etc.
Location intelligence can also help you to strengthen these strategies, thanks to quantitative and qualitative insights about footfall.
Contact our experts to learn more about our location intelligence solution.
Expand on the market once you've penetrated it:
Penetrating the target market is the first step to market expansion. However, once your penetration strategy is fulfilled and you have attained brand awareness, you must not slow down.
It is critical to spread brand values to the right audience and through the right channels. Use the first results of your penetration strategy to identify key customers personas and effective messaging.
Based on these insights, you can repeat successful actions to fulfil your market expansion and saturate this new market with your products.
To wrap up:
Market expansion strategy must be well planned to be successful.
To justify your strategy, it is important to have an understanding of the current context of the target market. This can be achieved through the use of location intelligence.
Several common penetration strategies include penetrating new territories, pricing strategy, developing a franchise (or a chain), launching a new product, etc.
By studying specific indicators given by geolocation data, you can better choose your market penetration strategy. Average income, spending habits, catchment areas and cannibalisation rates are relevant examples.
Empowering retail with Mytraffic:
As we saw, location data is a key asset to retail expansion. Understanding more about market conditions allows you to make better strategic decisions. The better your penetration strategy is, the faster you will expand on new markets. On the Mytraffic platform, you have access to all the previously quoted indicators, extracted from mobile GPS data.
For example, you can have a look on penetration rates and real catchment area (ranked by neighbourhoods)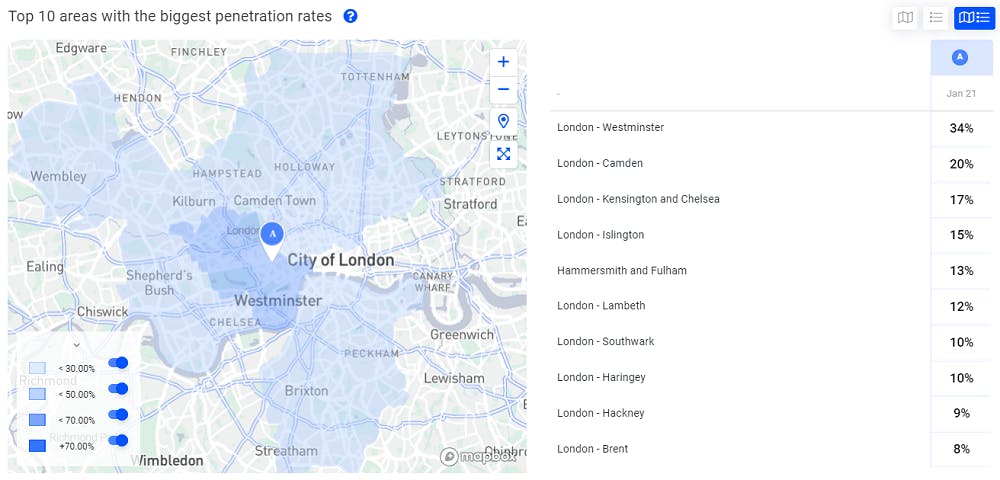 Thanks to this data you will adapt your marketing efforts according to the actual penetration rate. You can also compare this data over time, to track the impact of your marketing actions.
Thanks to accurate mobile data gathered in dynamic all in one platform, you no longer need to take decisions based on your feelings or previous experiences, but you can make data driven decisions based on fact.
Which market expansion strategy is best for your business? Demo Mytraffic today to find out
Ask for a demo